Welcome To Your Phone In The Cloud!
Landline, fax, call management, and more – everything in one place with this state of the art communications solution. It offers many benefits over traditional PBX systems. Manage all your voicemails, auto attendants, and recorded messages. This also includes phone extensions for everyone in the company. All your PBX needs in a single system just for you.
With a full set of essential features
Robust feature set – Over 150 features for your call handling.
Budget Friendly – No need to set up expensive infrastructure.
Plug and Play – Quick deployment with minimal interruptions.
Highly Scalable – Pay only for your actual requirements.
Highly Adaptable – Full customization & multi-device access.
Enhanced Collaboration – Integrates with your business applications.
Reliable & Secure – We take care of the infrastructure.
Increased Efficiency – Detailed insights into your business metrics.
Increased Redundancy – Ensure disaster recovery & fault tolerance.
Ease of Use – Access from multiple intuitive interfaces.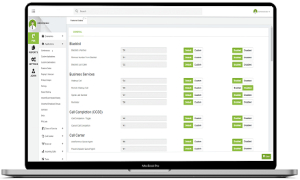 Build your business with telephony:
Get all the call center features:
Integrate your favourite apps:
Run in your browser, operating system, and mobile device. Accompanied as well by the mobile apps. No matter where you are located, you can communicate with our tools. Take advantage of these functionality to maintain your business safe and connected.